Today we're sitting down with a day one Carmel team member who brought us some of our favourite drops like Garlic Breath and of course Animal Face.
Back in 2020, Billy made his first appearance on our blog when he was interviewed with Drew about our launch, and how the Carmel team came together. Today we check in with Billy to see what's changed in three years (spoiler alert, lots). Let's go 👇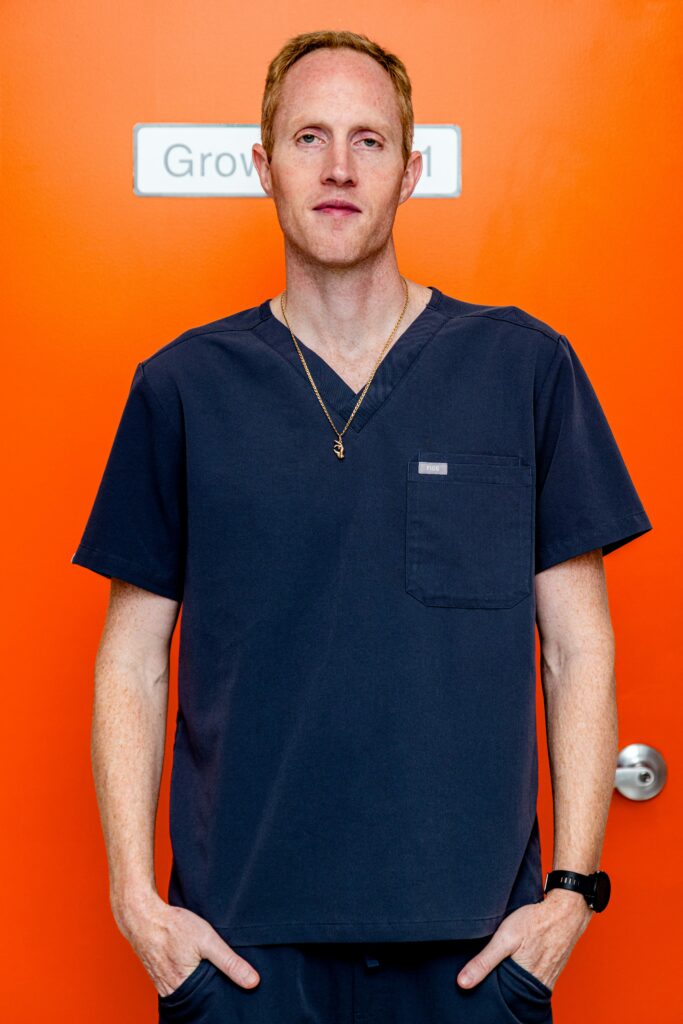 Billy, it's been a while since we've had our last update. There's some big news we've got to cover but let's start with your namesake. What's going on with Billy's Pheno?
Billy: Billy's Pheno started out as an exercise of me searching out incredible flower from craft growers. The idea was to let some smaller growers shine and to bring some unique genetics and different flavours to market. Now things are changing a bit. I'm happy to announce that I'll now be growing everything that goes into those pouches.
OK tell the people more, where's it being grown, what's the setup?
Billy: Well, about a year ago I started working on building a Micro. It's always been my dream to run my own grow, have my own setup. It's a scrapy operation, I'm running it and my only employee is a longtime friend, Andrew. Everything stops and starts with us. It's a huge step for me and I'm really excited for all the freedom it gives me to do more of what I love.
What's your grow setup?
Billy: So I've got two grow rooms, each room is 552 square feet of canopy with 36 lights per room. It's the perfect size where we can do all of the labour with just the two of us.



What are you growing, what can we expect from your first drop?
Billy: Bernscotti is our first drop. From everything I was pheno hunting, it has the best nose, the best bag appeal. There's a super unique colour profile and bold flavours of fermented berries, candy and lime zest. I think people are really going to like this one.
What else can we expect?
Billy: Our next big change, which wont be coming until the new year, is we're going to be selling Billy's in 7g pouches. I really want to get customers bigger bags of quality flower, hopefully we can continue down that path in the future.


What was the hardest part of getting your micro off the ground?
Billy: Honestly, the whole journey is pretty tough. It takes a lot of cash to get something like this off the ground but if I had to pick one project it would probably be setting up our irrigation. I did it myself with my father in law over the course of a month. As a micro you have to be hands on with everything at the facility, build your own setup. There's a lot of learning.
Talk to me a little more about your grow, how you're running things
Billy: We veg for about three weeks and then flower for anywhere from 8-10 weeks depending on the strain. We mix all our nutrients on site, tailoring our recipes to whatever that specific strain needs. We'll prune all the plants twice over their lifecycle which takes about a day a bench so it takes a week to deleaf a full room. Everything is hang dried, hand trimmed and properly cured.  At the end of the day my goal is to bring the best possible product to market, everything we do works towards that.


What's next after Bernscotti?
Billy: Moonbow. That wont be coming to market for a while, but it's for sure my favourite pheno from the hunt I just ran. Bag appeal is 10/10 and it's easily the most flavourful strain we've taken down. It's a cross of Zkittles and Do-si-dos. Do-si-dos is an OG cookie cross and then with the zkittles you get a really nice flavour. Super frosty, crazy nice nose. I've also got some Zoap that I'm trialing out right now. That might be coming out next year.



Anything else you want to add?
Billy: Not really. I'm grateful for all the support we've had as a brand today, it's allowed me to evolve into the place where I'm now running my own micro, which is really a dream come true. Bernscotti is out right now in Ontario and coming to Alberta soon. I encourage everyone reading this to pick up a bag and send us your thoughts. We'll always be looking to keep things fresh, rotating in new drops, so be sure to follow Carmel on Instagram for all updates (Carmel_Official).
Intro (rant)
Cannabis ain't easy. Talk to a local rep or store owner and you'll be sure to hear your fair share of war stories. Better yet, talk to the one of the CEO's of the many failing pub co's. You'll likely hear sob stories about how hard it is to gorge yourself on fat bonuses while the thin vineer of a business quickly fades away to reveal a fancy embezzlement scheme. I'm not jaded, you're jaded.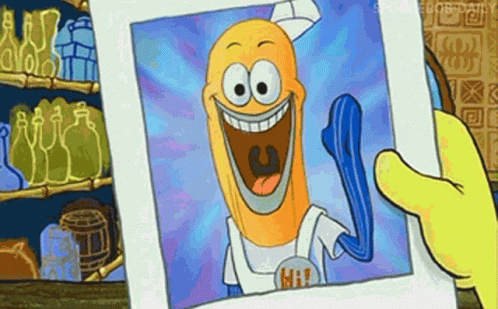 BUT this blog post isn't meant to be a disgruntled rant. In fact, this post is a good news story, about the people who should be in the industry finally getting their foot in the door. In this blog post, we check in with our Master Grower Drew, our old friend Genetic Mike, and get the deets on why launching Golden Crisp from Northern Canna is more than just another drop.



Ozzy > Instagram
If you know Drew, you know there are few places as special as Ozzy Hydroponic. Before Instagram, before online forums, this was his spot to hear what everyone else was growing out and to meet other growers to talk shop.
The year was 2015 and Drew had just got a huge shipment of seeds so he decided to bring it in to Ozzy, to flex on what might have been an overpay on 4 Magnum Opus packs (shoutout to our Sorbetto) . Enter Mike, who happened to be sitting at the counter in the shop when Drew walked in. While talking through the shipment, Mike asked to buy Drew's Tropicana Cookies, and in true horder fashion it was met with a hard 'no'. But the conversation continued, and after a few more bump ins they started working together.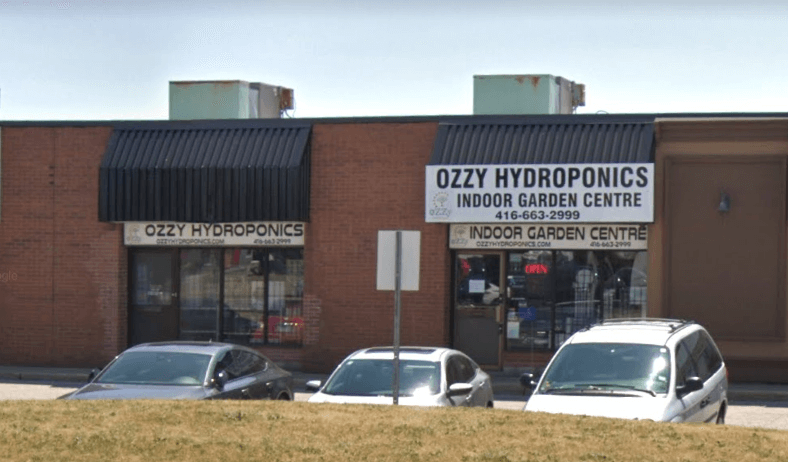 "After we met, we quickly realized we were on the same page in terms of quality and breeders. I had a little more  going on the Weedmaps side of things and knowing the quality of what he was putting out, I started moving his packs. -Drew"
At the time, Mike was growing a Snowball, Bananna Hammock, Sundae Driver, and his notorious his Platinum Punch Remix:
"There's a lot of Platinum Punch floating around today that's claiming to be Platinum Punch Remix (PPR) but it's just not the same thing. I started growing PPR over 4 years go, I put that strain on the map and I was the only source. My cut was just so unique, It was really really rank, and had crazy bag appeal from the platinum. After it dries it loses its fruity smell and goes heavy gas. Platinum Punch always had the great bag appeal but I didn't care for that fruity nose on it. That's what sets my PPR apart, no grape on the nose after the cure, just crazy terps with heavy gas -Mike"
As time went by, Drew went legal and Mike kept doing his thing. But, much like the Carmel story the right opportunity came for Mike, and Northern Canna got their LP license. Today, they've setup an incredible facility in Vaughan, ON and we couldn't be more excited to help them bring their gear to the market, kinda like the good old days just with a little more paperwork and a hell of a lot more taxes.
The First Drop
A fresh start meant fresh genetics, and a clear winner from his latest pheno hunt is Golden Crisp. With what is perhaps one of the nicest noses on any product we've seen in a long time, Golden Crisp delivers gas backed with a sweet apple and fruit loops flavour profile. In most of Canada Golden Crisp will be brought in as a rotation under our Rares label, and in BC it'll just be listed under its strain name. This small run will be coming in at both 3.5g Whole Flower and 3x.5g Pre-Rolls, so be sure to look out for orange bags showing up at a shop near you 👌



Whenever we're in store, or at events, the inevitable question that always comes up is "What's new in the grow?". For the last year or so, that was a tough one to answer. Truth was, while we were still running pheno hunts in every room we took down, we were hyper focused on meeting demand on Animal Face. We've got that figured out now, so we're getting back to our roots.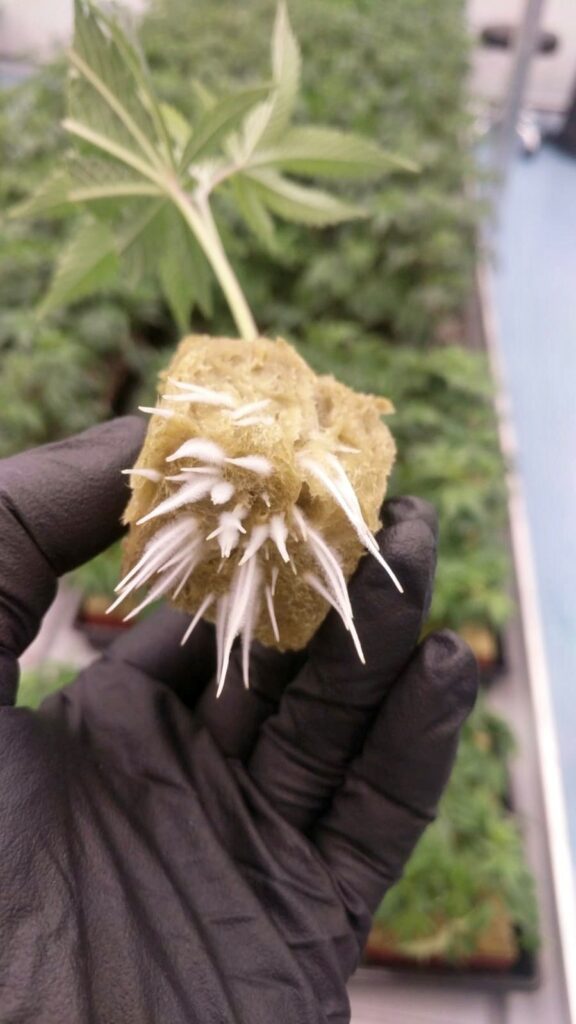 Grown/growing responsibly:
As a small grow, one of the things we inevitably faced last year was a lack of space. If you've had a chance to come up to the facility you've seen exactly what we mean. So, this year we're growing. At first, our expansion was going to be on-site, but a few hiccups and some red tape pushed that to the backburner.
Then, like a vision seen after smoking one of Bam's hash blunts, an angel came to us. We got introduced to some state of the art facilities that hadn't come online yet, and we quickly started to figure out if we could bring their grow into the fold. This meant spending a ton of time putting our SOPs in place, running a bunch of trial rooms, and dialing in everything to make sure we were staying true to what we do. What does that all mean? A little more grow space under the Carmel umbrella, and a lot more drops.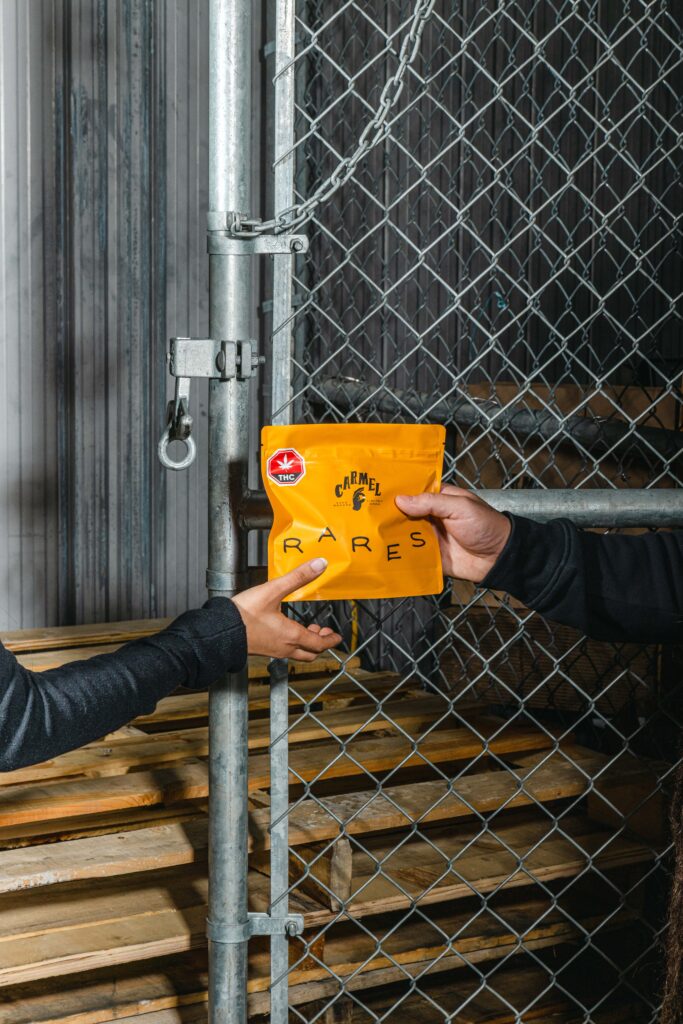 OK, but what's new in the grow?
With a few more rooms online, we can now begin to grow some new genetics. First up is a big announcement that we're going to be changing the name of Drew's Pheno. No, Drew isn't going anywhere, but we wanted to evolve what Drew's Pheno was all about because of some exciting updates we'll hit you with later. For now, all we can really say is that Drew's Pheno is now going to be known as "Rares".
In many ways, Rares is going to be similar to what we were doing on Drew's Pheno. Limited drops of incredible product you can't get anywhere else. What's changing is from time to time these limited drops will feature in-house grown product. Which takes us to our first drop, coming this week in Ontario….
Pink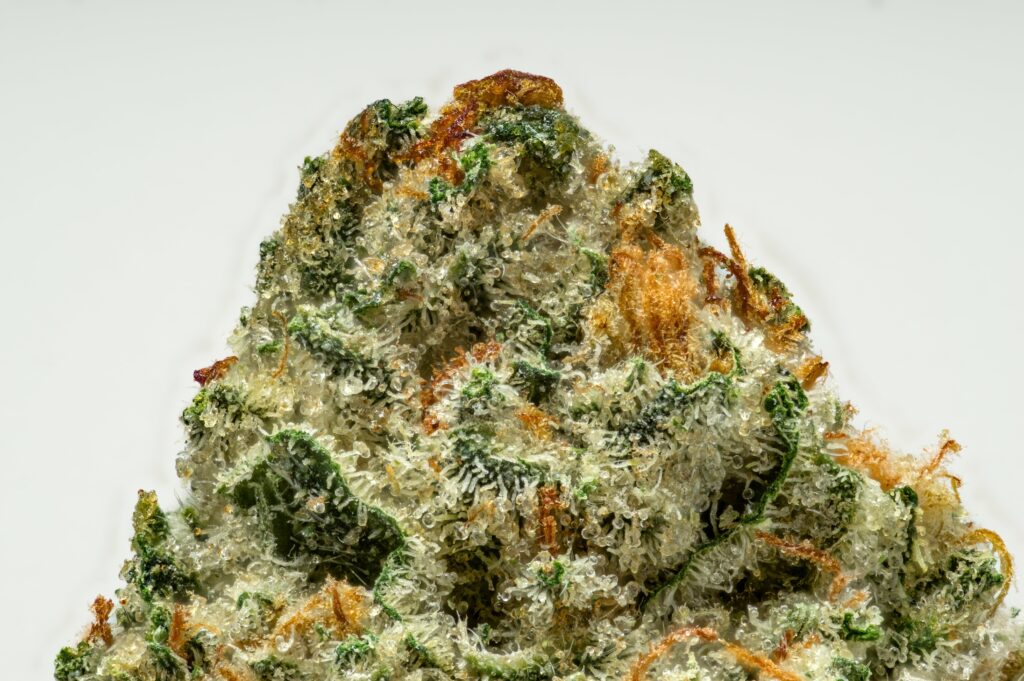 It's no secret that from day 1 our team has been in pursuit of a proper pink for the farm. Back in 2010, Drew first fell in love with a Pink he grew that was a cut from Billy Bud. Time went by, Pinks fell out of favour for more fruit/dessert forward gear, and that cutting slipped away. Over the last 3 years we've hunted for a cutting that we'd be proud of, something that would make it feel like 2010 again, and that day has finally come. Over the next couple weeks you'll see our gassy, frosty and dense Pink hit a retailer near you, under our new rotational SKU name, Rares (the one we just told you about).
We've worked on this one for a hell of a long time, so while we always say we're excited for your feedback, this time we're really excited for your feedback. Stay tuned for the next post coming soon, where we'll give you an update on a few more drops we have coming your way this summer.
👌
Almost a year ago to the date, we jumped head first into making pre-rolls. We've all been taken aback by how much people have loved the convenience of being able to pick up our three packs, so it's only natural that a year later we're finally launching an infused blunt.
Our blunts, much like our pre-rolls, were a long journey of trying out a million different options to finally arrive on something we'd be excited to smoke. So, here's a little insight into where we decided to take things:
The Wrap:
It's always going to be what's on the inside that counts, but we quickly realized the wrap was one of the most involved pieces of this whole process. A lot of wraps that are out there today try and replicate the flavour/experience of a Backwoods (🤤 Russian Cream) or a Swisher Sweets (RIP Chad Butler) but overall they miss the mark.
On top of that, these flavoured wraps have an ingredient set that reads like a gr10 science quiz ❌, containing the likes of: cellulose, natural binder, food colouring, potassium sorbate, glycerin, etc.
So, we decided to stay away from the overly flavoured side of things, letting the terps of the weed shine. Of equal importance to us was the need to have a super slow burn, once again without the use of any additives. Naturally (you see what we did there?) we landed on launching our first blunt with King Palm wraps, made from all natural cordia leaf.
We really loved everything about the King Palm. From the slow burn and all natural flavour, down to the hand feel. Up next we needed to tackle what went inside.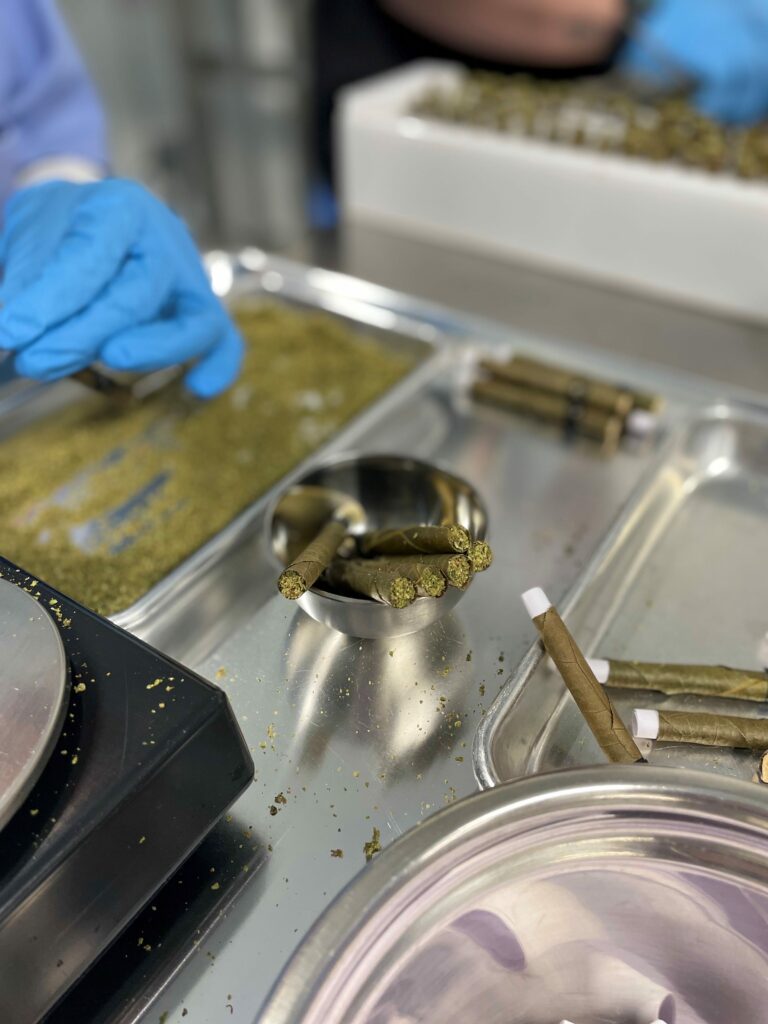 What's Inside:
It's an ongoing debate at the farm right now which pre-roll we prefer. Some love the menthol flavour of Tiger Cake, while our esident gas heads are never putting down Animal Face. So, we figured we would just combine the two. Tiger Cake whole flower and Animal Face ice water hash, washed by the team over at Coulson Cannabis . The mix is about 70/30 dried flower/hash, totaling 1g (can it be a blunt ever be anything less?)
Packaging:
Our packaging follows our usual pre roll packaging, a glass tube with a cork in a pouch. The only important difference is the inclusion of a humidity pack to ensure both the leaf and the content are on point 👌.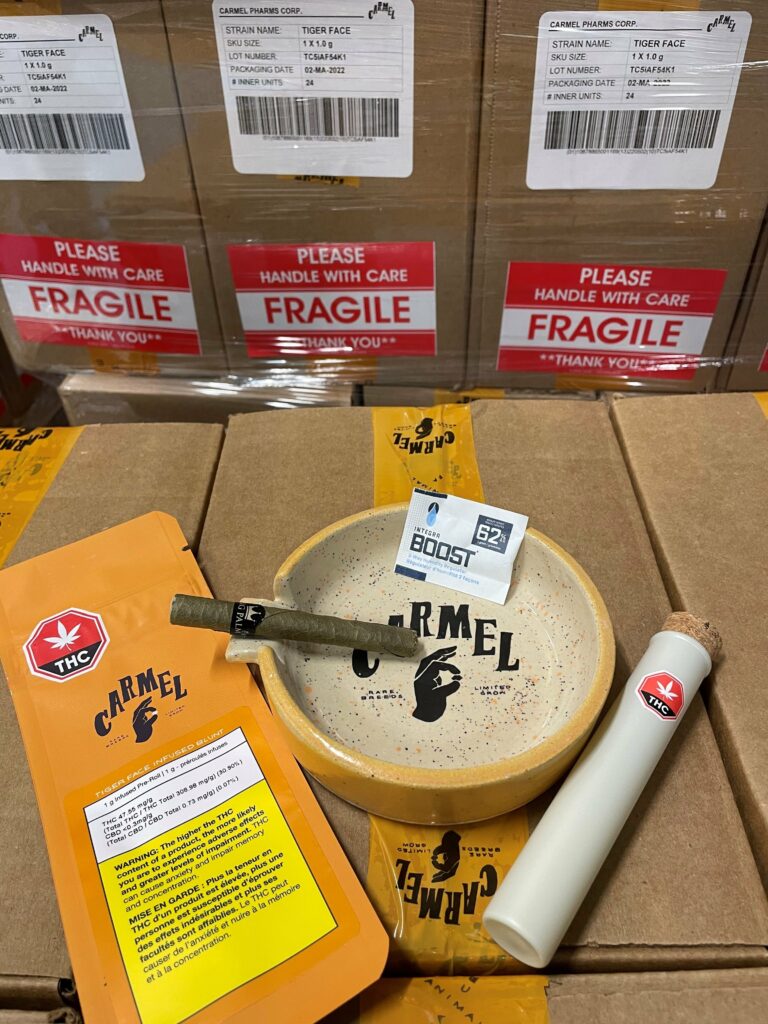 Making the blunt:
Because you've made it this far and have decided to spend the better part of your day reading about our blunts, we'll take a moment to be extremely honest. This project was a labour of love, with the emphasis on labour.
Unlike our pre-rolls, which are produced in a Furutola Knockbox, our blunts are hand filled and hand packed.
Long term we just don't know if it's going to be possible to continue with this passion project, but for now we're just going to be refreshing our browsers to see when our blunts finally hit the shelves of our local retailer.
When we launched, almost a year ago to the day, one of the things we naively wanted to do at Carmel was to constantly deliver variety and unique genetics (remember, rare breeds?) to the market. Last year we launched a total of 5 unique cultivars. For a small grow with limited resources, we were pretty happy with that number. Most importantly we were able to stand behind everything we launched and that's something that will never change.
Timelines: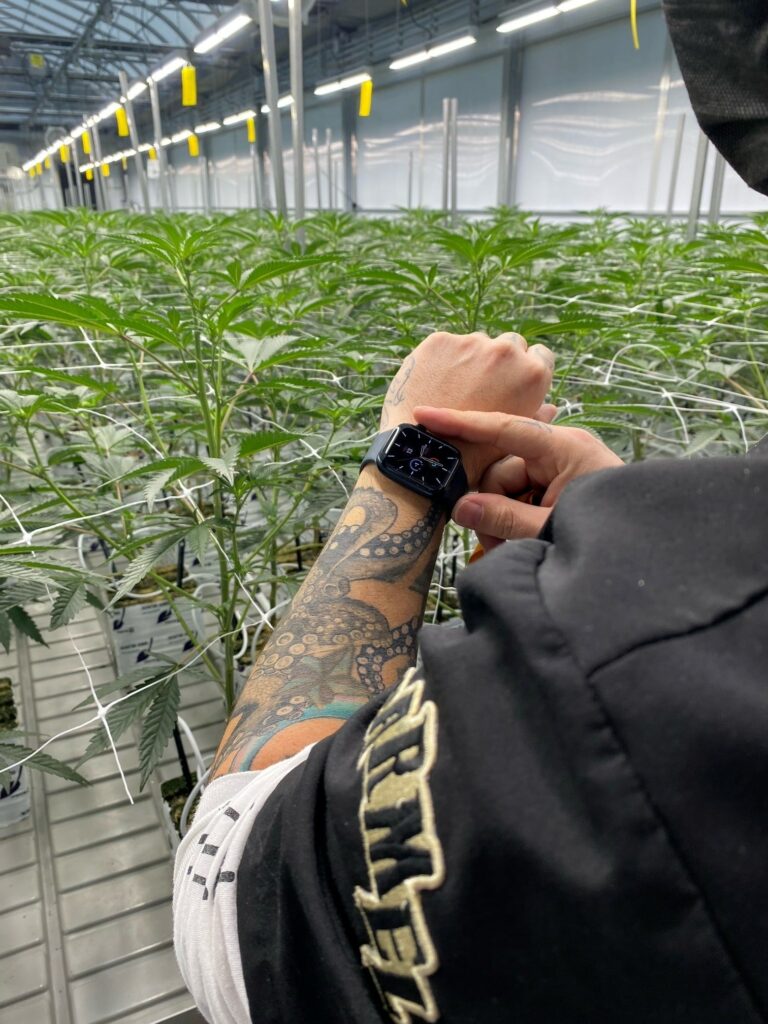 The reality is though, we could have launched more. Without getting into the minutia of how a product comes to market, we operate under some pretty rigid timelines that limit just how much we can innovate. If you have a launch on January 18th but you needed to run a room for an extra week, you would have to wait until April to try and bring your product to market. That means product sitting around until we get it into your hands 👎
Small grows:
The other reality we faced last year was missing out on bringing product from our network of growers that are doing some pretty incredible things. On multiple occasions, we recieved some samples that just blew our mind. Products from small, independent craft growers like us that absolutely need to see the light of day.
Meet Drew's Pheno:
So, enter Drew's Pheno. Our new SKU, where our Master Grower, Drew, hand selects drops that are available for a limit period of time. Is the concept of rotating strains under the same name new? No, but we think we can do a better job at it as there have been a lot of shenanigans with the way it's been done before.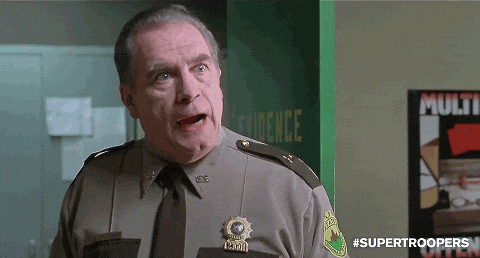 First off, there are more than a few growers, both big and small, that source product from partner grows without giving credit to the grower. Some of your favourite craft growers do this, and barely anyone knows it 🤐 . That sucks and we'll never do that. If we buy from someone else, their name will also be found on the bag.
Another gripe is that many of these rotating SKUs like a 'Growers Choice' never actually disclose what cultivar you're purchasing. You see this more in the value segment of the market, but there are also some well known craft strains that employ the same tactic without the majority of consumers being any the wiser.
As the first LP to put breeder information directly on our packaging, we could never do this. You'll always know the strain, lineage and everything else you've come to expect from us. We'll also be featuring videos of our team talking about each release, talking about why they loved it so much and why it made the cut. More variety, more tansparency, more incredible flower coming to market 🎉
Coming soon: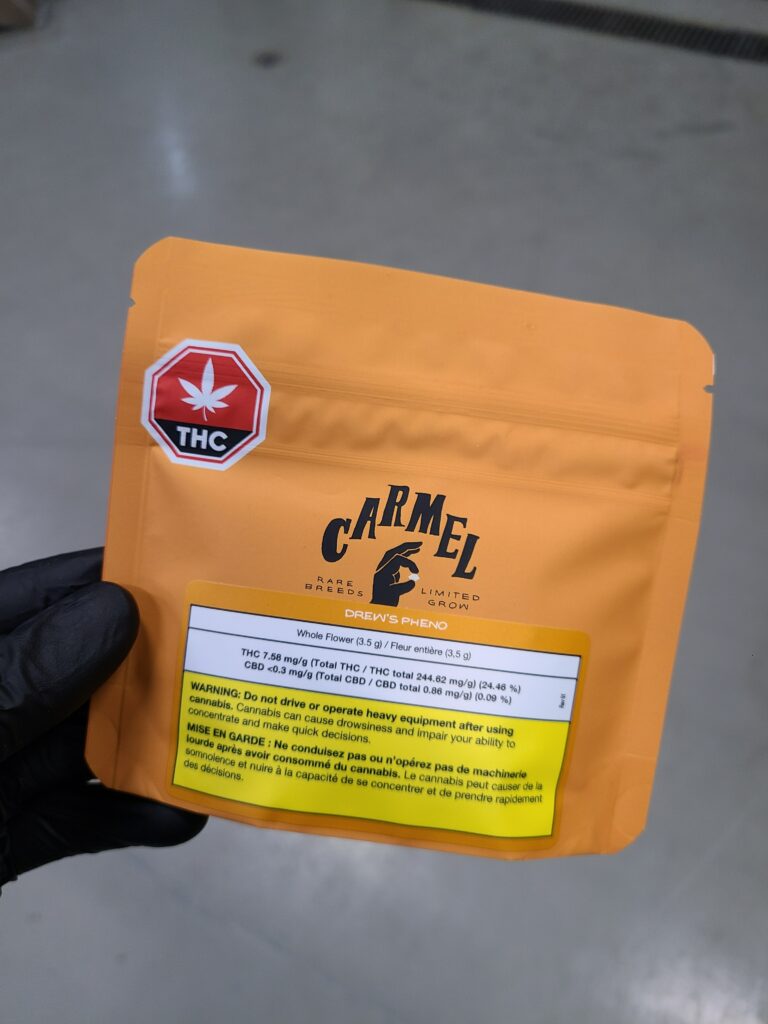 So look out for Drew's Pheno coming soon to a retailer near you. Our first drop is a super small batch of Peanut Butter Rockstar that absolutely slaps. Here's a link to a behind the sceens look at us showing you what she's all about.
Thanks for reading and let us know your feedback or if there's any cultivar you want us to drop 👌
Hopefully you know by now we're dropping the first release from our in-house breeding program, Dim MAC, on October 12th. One of our goals when we first launched was to produce something that was unique, remember 'rare breeds' in our logo? With a lot of producers shopping at the same store for their genetics (we see you Black Cherry Punch) we decided to take on the ambitious project of doing our own in-house breeding. In this blog post, we talk to our Master Grower Drew, who moonlights as the head of Carmel's in-house breeding program.
You've been obsessed with seed collecting and breeders for a while now. How did that really take off?
Designer breeding took off a little after I started growing. It was pretty hard to get cuttings in the early days, so I gravitated to what Cali Connection was doing. While they're pretty controversial and pissed off a lot of the industry, by providing seeds for what were previously clone only genetics, it really opened things up for what you could play around with as a grower in Canada.
Who have you looked up to most as a breeder over the years?
For me, Vader over at Ocean Grow Seeds is one of my all time favourites. Dark Helmet was probably my most in-demand strain from the "legacy" years, and I just always loved everything he did. For all the kids out there, this was before the IG days, so I was heavy into YouTube watching growing videos. Vader documented everything he did on YouTube, you could follow along and then get to see the plant at various stages before buying the pack. Doesn't sound special now with how ubiquitous that content is, but back in the day it was pretty amazing.
I'm always looking for something super gassy and dense, and his lineup typically delivered.
It seems like most cultivators, including craft cultivators, have outsourced their genetics. Why was it important for you to dabble in a little in house breeding?
There's a million reasons why we decided to build out our in-house breeding program. Those who are sourcing their genetics from 3rd parties, I get it. You save a ton of money and time. It's a hell of a lot easier, and it's something we may even explore doing from time to time, but it's also important that we have the flexibility to do our own thing. Being able to have your own proprietary genetics gives you a nice niche.
Some people who are providing genetics today are selling the exact same cutting to 5-6 LPs, and that's pretty rough. You gotta have your own thing. Also, when you have your own in-house breeding program you get to learn what performs best in your environment. It allows you to always have F1s, which typically give you the craziest results.
Most important of all though, is that running your own in-house breeding is just really exciting for us as a grow team. Part of the fun of being a grower is working through new genetics. Doing your own breeding allows you to work on projects that you want to do. You get a chance to try and find the perfect representation of how you think the cross should turn out.
Talk to me about crossing two plants, what does it involve?
First, you've got to identify a strong male. I look for something short, stalky and robust. I look for a male with frost, and you can rub the stalks to get a read on the smell of the plant. When you find your 'stud' you then grow him out to allow it to develop pollen sacks. At the same time you have to determine which mother you want to cross it with, which is relatively easy. As a grower you have a ton to choose from that are in production.
What was the first strain you crossed?
Ghost OG x Chem Valley. As you can expect, super gassy, great density. Loved playing around with that one.
What did you cross to make Dim MAC?
Dim MAC is a cross of my Dark Helmet and a MAC male that I found in a seed pack of Capulators MAC. I wanted to bring the frost and density of Dark Helmet to Dim MAC, and we couldn't be happier with how it turned out.
From the cross how many phenos did you grow out?
So we ended up getting about 4,500 seeds and grew out 100 different phenos. We selected our winner based on bud structure, trichome coverage COA's etc. Our winner is a great representation of what we set out to do. Frost and density of our Dark Helmet with the nose and appeal of the MAC.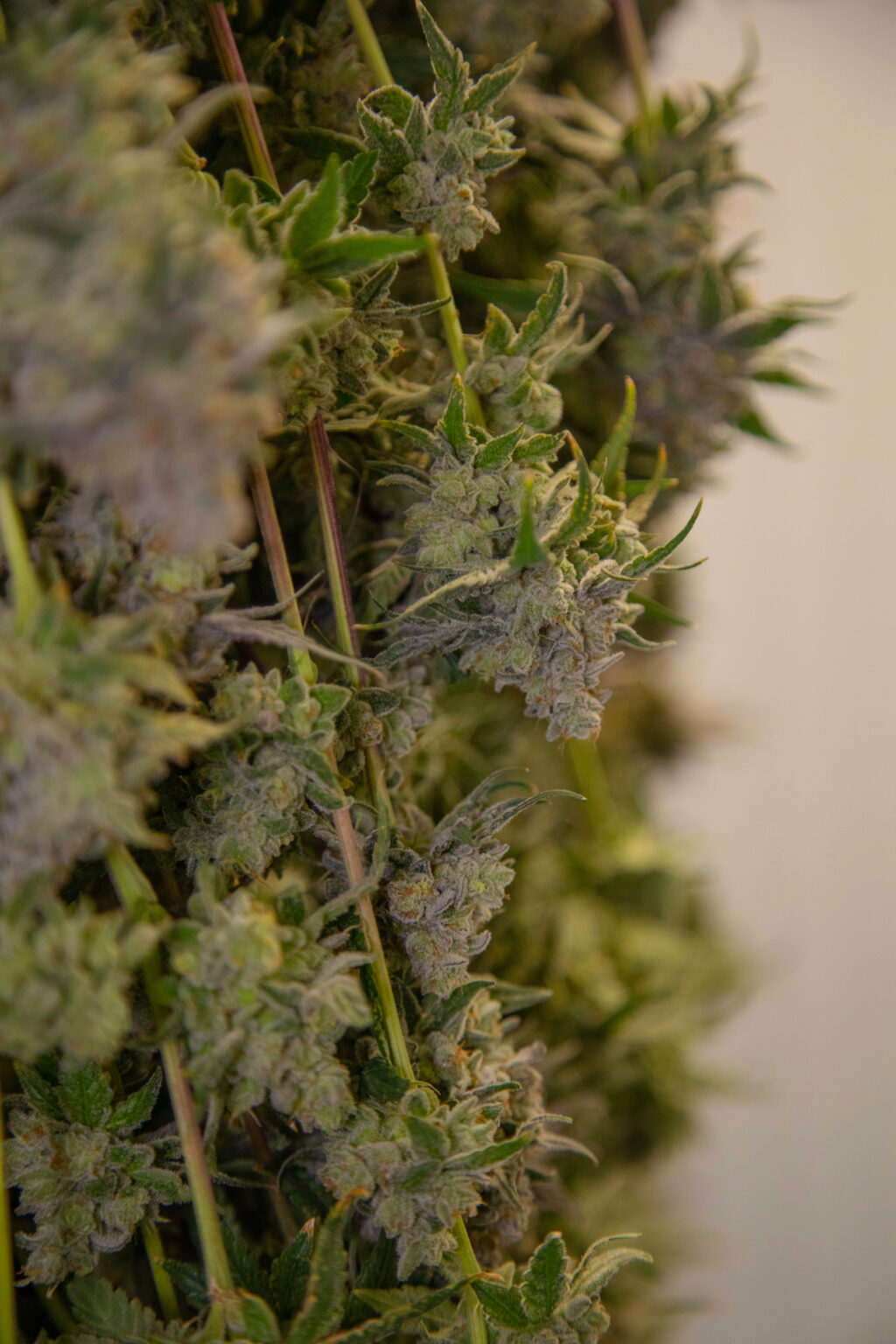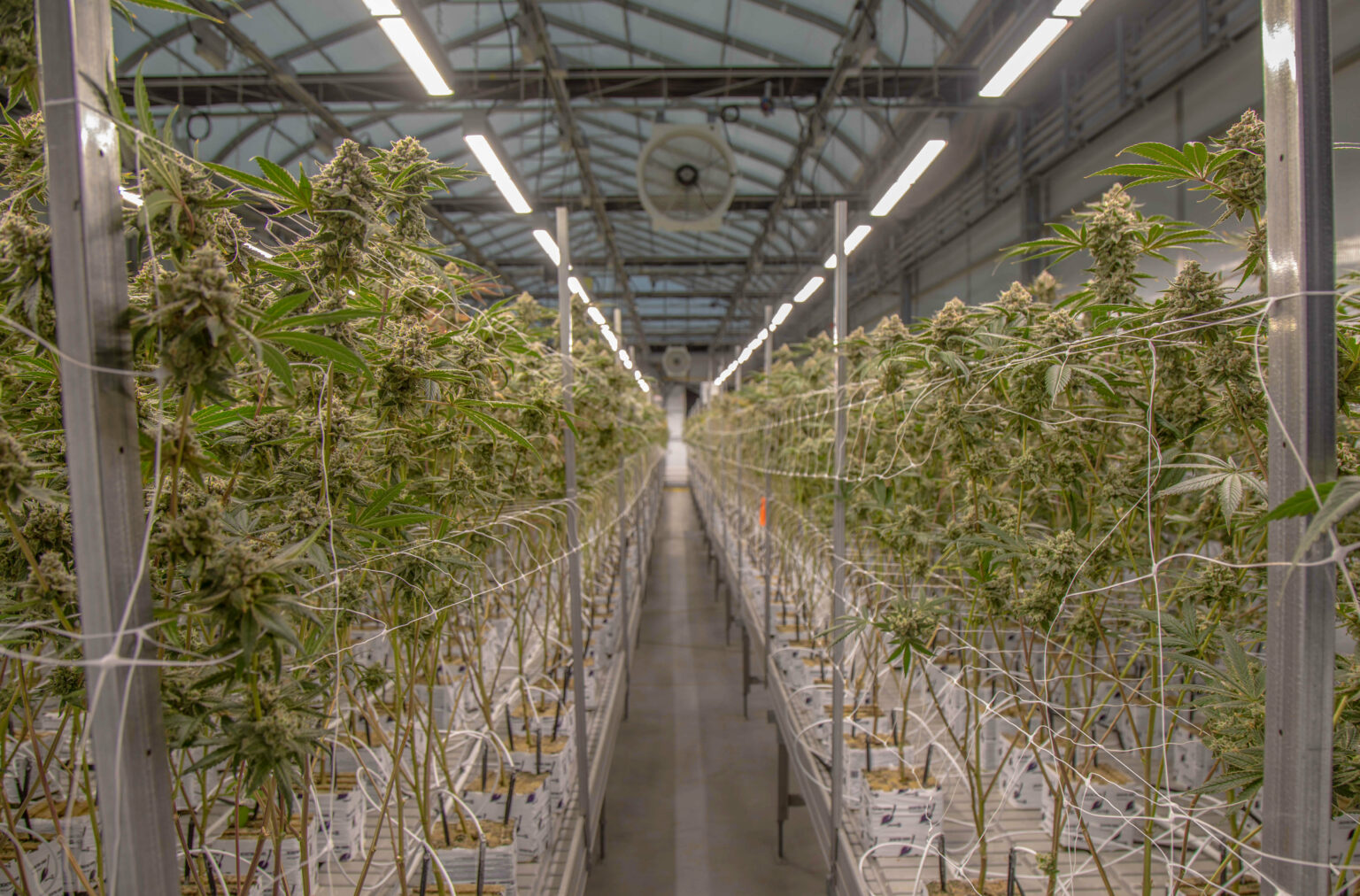 What's with the name?
My brother Sean came up with it. When you're naming a strain you try and pull a little something from both parents. Dim comes from Dark and MAC is well…MAC. Dim mak is the death touch from Bloodsport, if you haven't seen it be sure to give it a watch, it's a perfectly dated action movie that you just can't make these days.
Anything else to say?
Go out and try Dim MAC when it hits the shelf atyour local shop. We can't wait for you to try it out, and please share your feedback on Instagram, Twitter or via email at whatsup@carmelcannabis.ca 👌
Recently the Ontario Cannabis Store put out their Craft Cannabis guidelines, and went so far as to develop a Craft designation on their website. We had a chance to write about this development before their offical release, Crafting the Craftiest Craft Cannabis.
We're happy to see all the discussion about craft cannabis, but we cant help but notice the The OCS's craft cannabis designation is missing a whole lot of a key ingredient…..Ontario.
Now that we have the craft cannabis designation, what % is Ontario Craft?
Over a cup of coffee we took the time to tally all of the Craft products on the ocs.ca website, to see just how many of the producers are in fact based in Ontario. Of the 71 products that met the craft criteria, only 14 are grown in Ontario. That's a little under 20%.
In a way this makes sense. We've all grown up smoking BC bud, hash from Montreal, but at the same time this overlooks the incredible growers and legacy we have in our own backyard.
Why support Ontario Craft Cannabis?
Well, there's a bunch of great reasons:
1. Fresher Product:
We've all been burned by a bad package date. Product that's made in your own backyard means less time spent in transit, before it makes it way to the shelf.
2. More dynamic marketplace:
a. More craft growers in Ontario mean more farmgate stores in Ontario (We're working on ours, right now our municipality has opted out). Why are farmgate stores important? Because we dont think it's too much to ask that people be able to drive up to a facility and purchase a bag right from your grower!
b. Regional growers means regional trends. Maybe Ontarians will like gassy strains more than Albertans like sweeter/fruity strains. Growers will then cater to those needs and LPs will then begin to develop a reputation for their ability to meet the local need rather than big LPs trying to take a one size fits all approach across the country.
3. It means Ontario jobs. In the last year we've grown from 12 to 40 employees, and there are a bunch of great Ontario Craft producers who have had a similar growth trajectory, one that was recently purchased.



Disclaimer
We think part of our job at Carmel is advocating for craft cannabis in Ontario, but we think it's important to have a few caveats. First, being a craft producer doesn't mean you're automatically a quality product. Hang dried bunk is still bunk. A craft producer is more likely to produce a quality product, but it's not guaranteed. Also, craft weed is expensive. Depending on budget, or if you consume for medical purposes, costs can add up quickly and everybody needs to shop within their budget.
Thanks for reading 👌
To date we've focused exclusively on bringing Whole Flower products to market, so taking on the task of developing our pre-rolls is a big milestone for us.
We also see our pre-roll launch as a big step for Ontario craft growers. As we write this article, there are no options to purchase a pre-roll that is grown and rolled by an Ontario craft grower.
The benefit of having a team of legacy growers is that this isn't really anything new, but doing it at this scale and with all the usual industry challenges makes it a big task.
The format we're coming to market with is a 3x.5g pack, however arriving at that conclusion was a long road of talking to as many budtenders as possible, testing an obscene amount of competitive product, and engaging directly with our consumers to hear what they were looking for.
What was top of mind as we developed our pre-rolls?
Size – We look at size on two dimensions
1. The size of the pre roll: we thought that the .5g was the best option. People aren't sharing joints these days which limits the 1g, and .35g just isn't enough.
2. The size of the cone: this is more personal preference, but we didn't love the short stubby cones. We went with a bit of a longer, more slender joint.
Burn: This is a combination of moisture content, how well the cones are packed, and how finely milled the product is. If something goes wrong in any of those variables, you're going to have a bad smoke. We've dialed things in for a while now, and we'll be refreshing the Reddit OCS thread at an unhealthy rate at launch to make sure we got it right.
Package: We wanted to do something that kept things super fresh, was pocket friendly, and re-usable. A glass tube with a cork, packaged in our signature pouch just made sense.
Input: Forget everything else. If you aren't starting with quality flower you're not going to have a quality joint. This meant using only whole flower that recieved the usual Carmel treatment (hang dried, slow cold cured, non-irradiated).
When are our pre-rolls launching?
Our Animal Face pre-rolls will be on the market June 15th and our Garlic Breath pre-rolls will be landing July 13th. We expect to be releasing MAC 1 and Peanut Butter Breath pre-rolls later this summer.
How much are we selling our pre-rolls for?
Our recommended selling price for our 3x.5g pre rolls is $21 after tax. We believe this as a really competitive price, almost $7/unit or 24% less than our closest competitor.
We appreciate you reading our post and we hope you're able to get your hands on some pre-rolls this summer, as Ontario opens back up!
We want to hear all your feedback on our pre-rolls, so send your thoughts to whatsup@carmelcannabis.ca when you're able to get your hands on them 👌
It's been about 3 months since we've launched, and we've been truly humbled by all the love we've received for Carmel products.
You can plan as much as you want leading up to launch, but until you hit the shelf, get feedback from retailers and consumers, none of it is real.
From the phenos we've selected, the quality of the product, to the feedback on the brand, it's been great to hear all the positive feedback.
But it hasn't all been positive. We're always listening and working to improve, so here are some of the learnings we've had since we've launched:
BAGS ARE TOO BIG 👜
Ok so turns out we overdid it on the bag size. We wanted to find a size that worked for both 3.5g and 7g formats, but ultimately that was the wrong decision.
We've decided to shrink our bag by about 30% to:
1. Decrease waste
2. Minimize headspace
3. Make it pocket friendly
here's a sneak peak at the new bag:
Why do we use bags again?
-Nitrogen flushed for freshness
-Ability to add key product information
-Less plastic vs. jars
-Lower shipping weight
WEED IS TOO DRY 🌵
This one hurt. We've all been burned by over dry weed from the rec market, and when we realized we had fallen into the "legal weed is too dry!" camp, we were really disappointed.
Good news is we've fixed it. Long story short, our buds were losing moisture in the packaging room, and we've since made some environmental adjustments.
Previously our packaged product was coming in at around 8-10% moisture content and moving forward it'll hit the 11-13% range.
INSTAGRAM STINKS 👎
3 months since launch, 2 times we've had our Instagram Account shut down.
What have we learned? We'll be focusing more of our efforts on alternative channels (Twitter, email marketing) and we've also got a new handle for Instagram.
For us it's always been really important that we showcase the behind the scenes of our grow and Instagram is really the best platform for that, but we've taken the hint, Zuckerberg.
This post has by no means been an exhaustive list, and we'll continue to try and improve every day.
We appreciate you joining us on this journey and for the continued support.
We're grateful for all our retail partners and customers, and we'll leave you with a few images of our most anticipated drop to date, MAC1 👇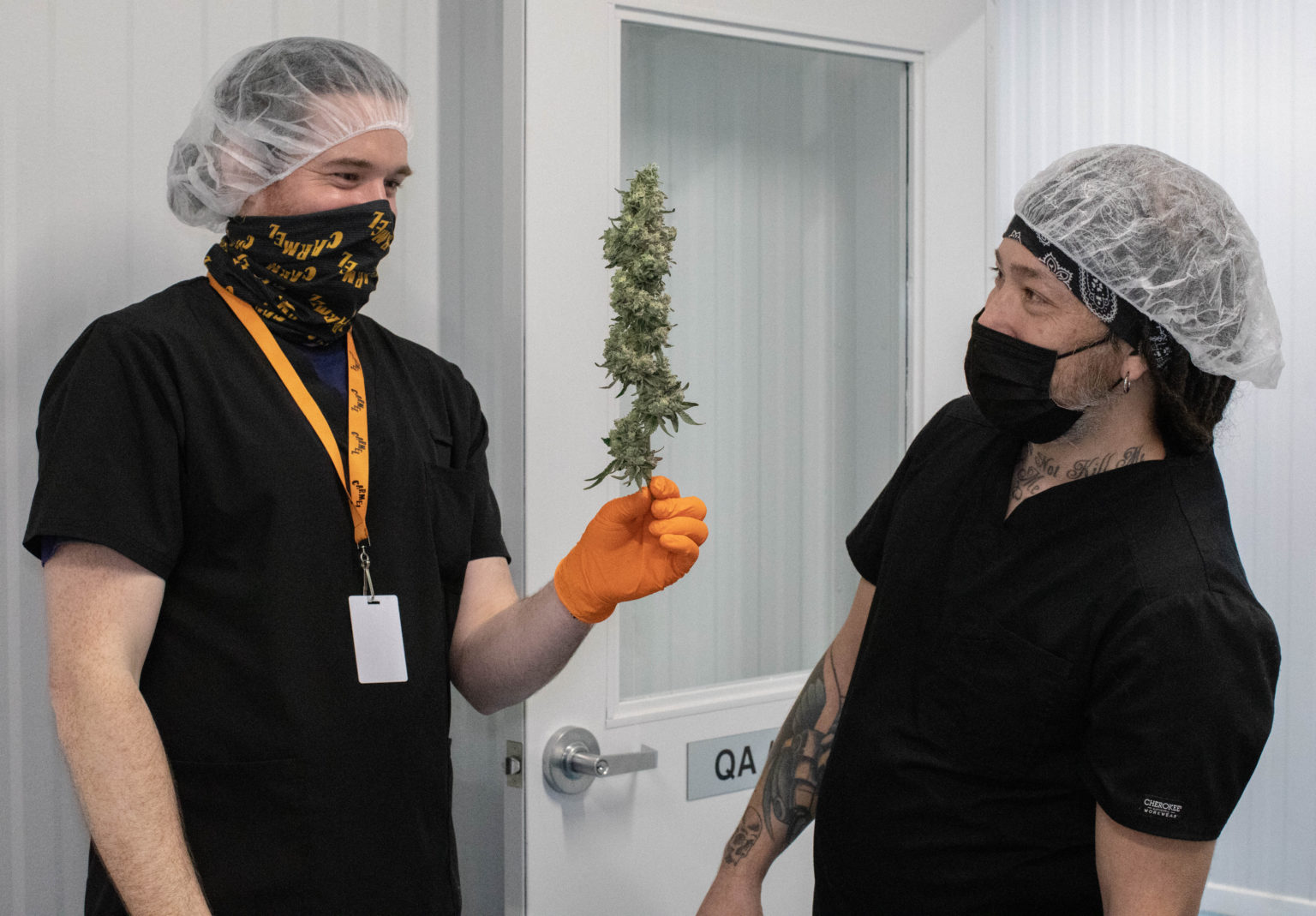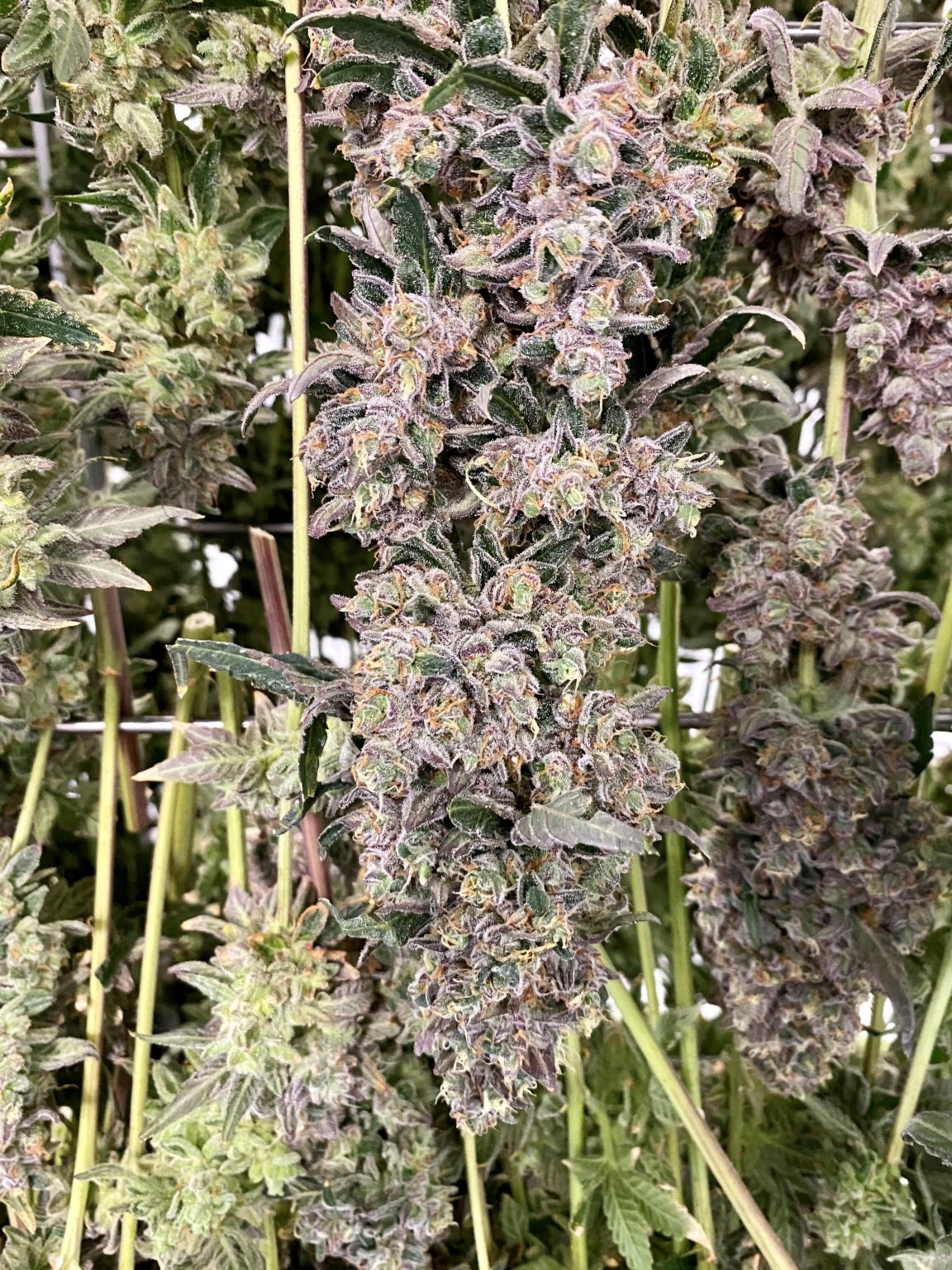 As we write this post, we're aware that reading about our decision to name our MAC 1, well, MAC 1, isn't going to be of interest to everyone. But if you love nerding out on genetics like we do, this post is for you.
This post will be a little long winded, perhaps more technical than we typically like to write, but we felt like it was an important exercise. So here it goes:
Carmel's Genetics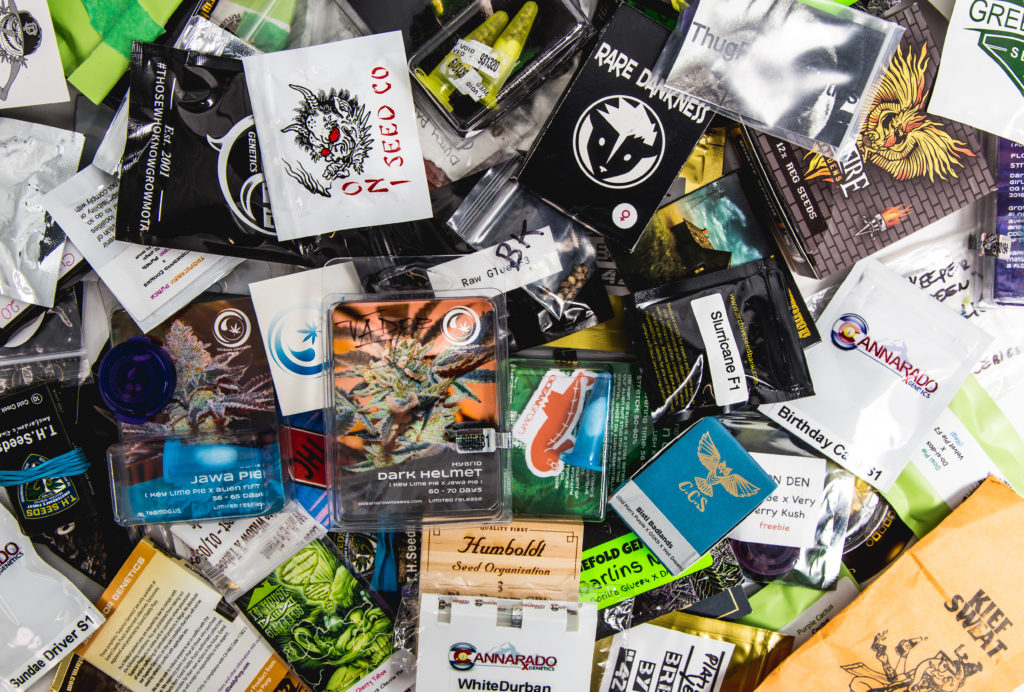 Most of the genetics we grow at Carmel are either S1's or F1's, while we also brought in a bunch of clones when we launched. Our Animal Face for instance is an F1. It's not a clone only, and we really don't care. We think it's an incredible pheno, and believe it can stand up with any Sativa in market today.
When consumers purchase through a licensed cannabis retailer or through the OCS the majority of the flower comes from a pheno selected from a seed. The variety that exists in the market today is largely due to genetics being distributed by seed.
New varieties and flavours have proliferated over the years as a direct result of people seeding their plants, because getting clones across borders or across country just isn't practical.
We've got over 300 different genetics in our seed vault and we're looking forward to popping all of them. We've got a bunch of Thug Pug genetics that we're launching, Garlic Breath is in market today, and Peanut Butter Breath will be coming to market soon.
We didn't give Garlic Breath its name, that decision was made for us based off the name on the pack and what the breeder chose to name the strain.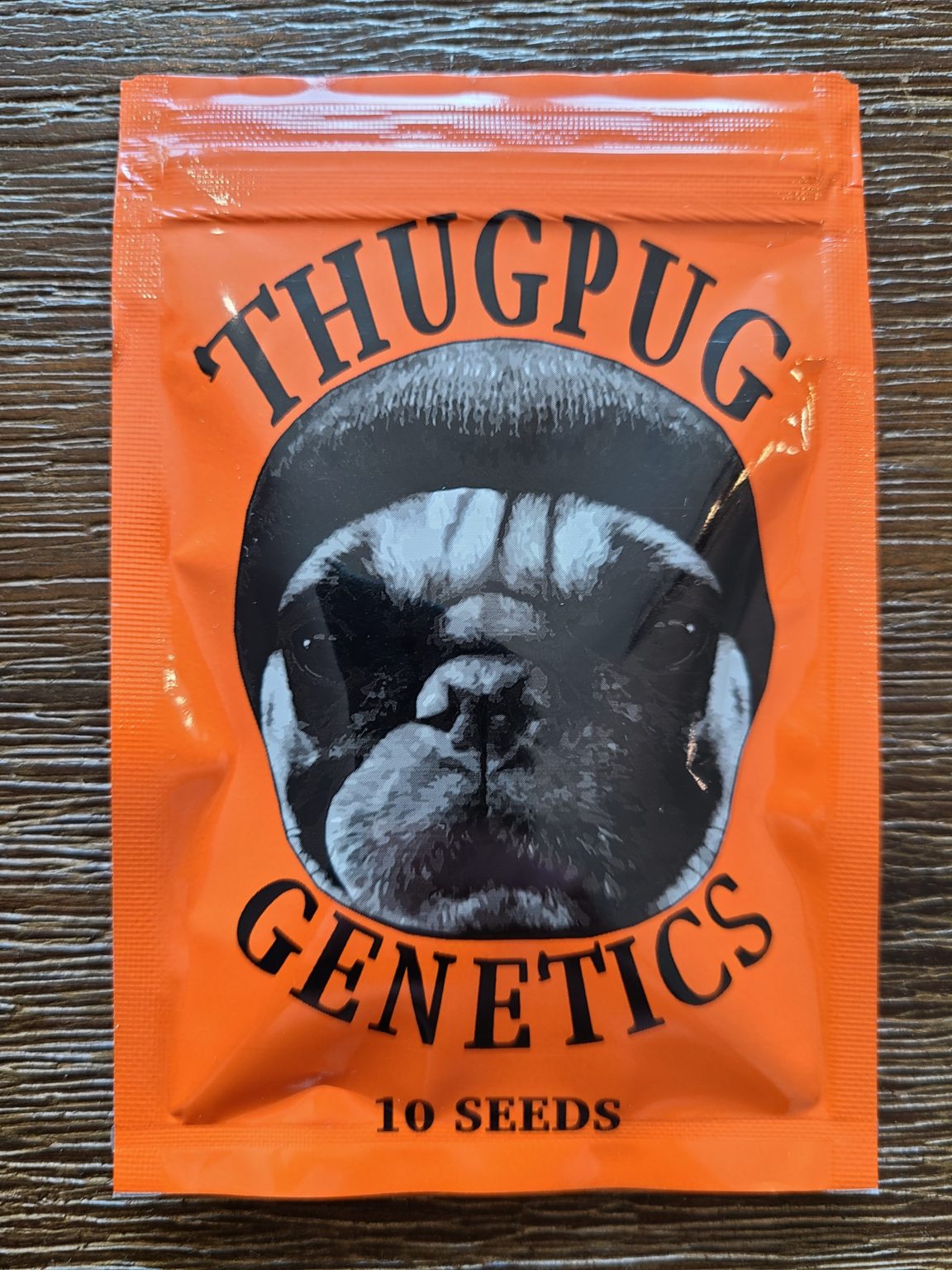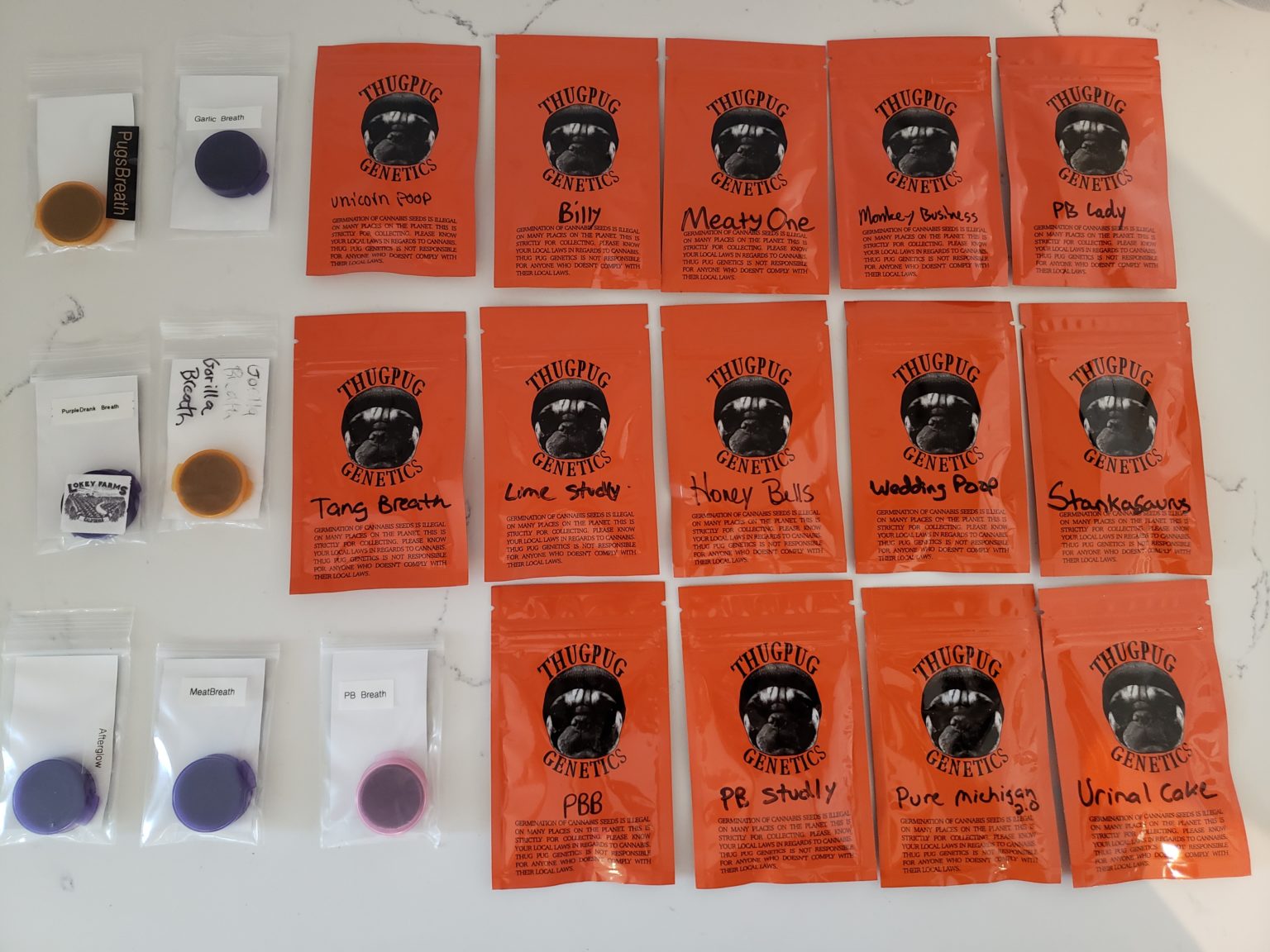 What's in a Name
When it comes to MAC 1, there are enough resources online that help breakdown the MAC 1 story but for the uninitiated here's a quick summary:
MAC (Alien Cookies F2 #7 x Miracle 15) is a strain that was first bred by Capulator in 2016. He later made some of his MAC seeds available and MAC 1 was eventually born out of his remaining seeds (first pheno, hence 1).
Our MAC 1 is an S1 of a clone only MAC 1, which we pheno hunted across a variety of other MAC 1 seeds as well as caps original MAC. Much like we don't call Animal Face "Animal Face F1", we decided to call our MAC 1, MAC 1 (Cap actually calls his cut MAC1, no space).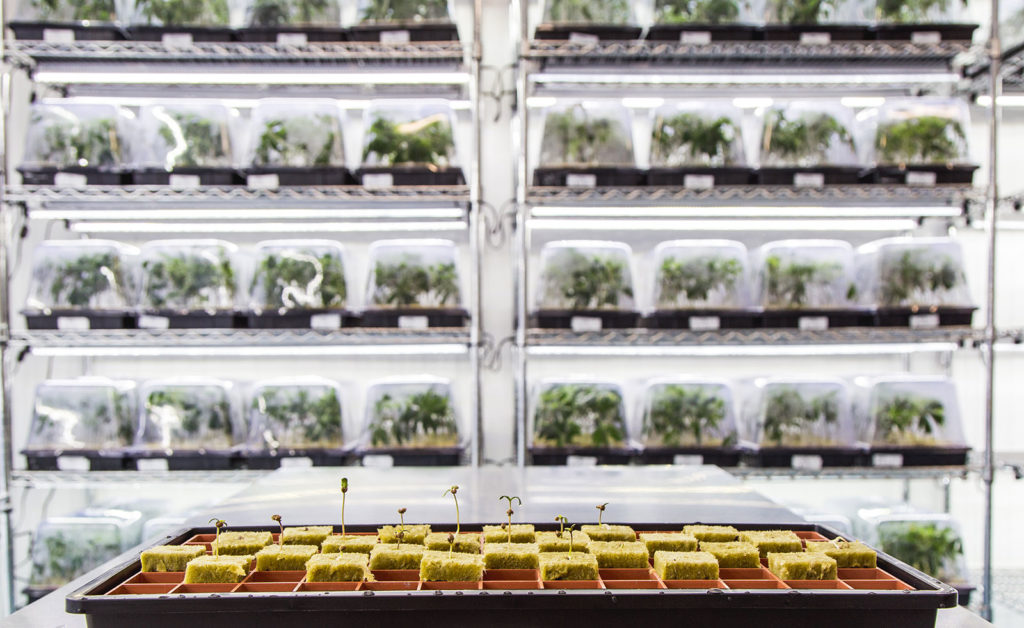 One thing we are proud of at Carmel is the degree of transparency we've brought to the industry. We're the first producer to list key product information (breeder, lineage, appearance, aroma and terpenes) directly on our pouch, and because of this many of our competitors will follow.
We'll continue to stay consistent with the approach that the more you know the better. For MAC 1, we've gone so far as to state S1 in the 'Lineage' field on our MAC 1 pouch to make sure there's no confusion.
Don't do fugazi
We understand the degree of skepticism in the industry around strain names. Many producers have intentionally muddied the waters with the strain names they've chosen.
Some have done it in the failed attempt to bring in a "new cannabis consumer", because actual "street names" was off brand or not premium enough.
Other producers rename strain names to make life easier on their supply chain. For example, if you call your product Bobby's Batch, one month it can be Exodus Cheese and the next month it can be Sour Kush.
The final reason, and perhaps the most egregious is when some producers will knowingly rename a strain name to capitalize off the "hype". If GG4 is popping but you only have a Sour Kush, just rename the strain and you'll be able to capitalize off the momentum and namesake of GG4.
Carmel has never, and will never participate in the antics we discussed above. If we do, send us the link to this article and Vince carter dunk on us.
If the only MAC 1 you'll smoke is MAC 1 which is specifically Capulators cut, that's great. We think that Qwest has this in market and generally speaking the cutting has been passed around enough that it's pretty accessible through "alternative" channels.
We decided to launch our MAC 1 because we think it stands up to anything else that's in market, and were blown away by its aroma, taste, bud structure and bag appeal.
Maybe you don't agree with our logic on the naming, and that's fine. At the end of the day it's all going to come down to the smoke, everything else is just noise 👌